Abruptly losing power at home can be inconvenient, but it's much easier to handle when you are prepared. Sometimes it's as easy as flipping a switch, or you might have to wait hours for your utility company to get the power back on for an entire area. Either way, knowing how to handle a power outage is good for your safety and ease in the time spent without energy.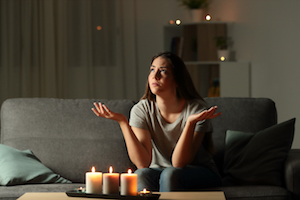 How to Manage a Power Outage in Your Home
Home Survival Tips for During the Outage
There are several ways to handle a power outage at home. Diligence in your preparation for it along with following the tips below to guide you through a blackout can make it much easier to deal with.
Find the Cause and Contact Your Provider
The first step is determining if there was a power outage or a problem with your personal breaker, which can be deciphered by checking your main electric panel. Blowing a fuse or tripping a breaker is easy to spot by seeing if one or more switches are turned off on your electric panel. If so, simply restore power by turning the switches back on. Once you have done this, your power should come back.
If you find that the power has gone out across your area, alert your utility company about the outage. Often the phone lines of utility companies are busy because of the influx of calls. Be patient when trying to get through and they will help you as much as they can. Someone else from your area may have even called in to report the outage and your utility company could already be working on it, though this is not always the case so you should still be proactive.
Have Materials Ready
Make sure to have gathered the necessary materials to ease your time spent without energy like flashlights, batteries, a first aid kit, and something entertaining like a book or a game. There is often no telling how long an outage will last and being able to move around the home unhindered is important. Flashlights enable this and come with the added benefit of being safer than other sources of light like candles. Be sure to have this outage survival kit in a designated area in your home at all times.
Don't Open the Fridge or Freezer
Maintaining a cool temperature is necessary for the perishable goods in refrigerators and freezers to keep from spoiling. Without power, the fridge can keep cold for up to four hours if it is left unopened, while the freezer can last for twenty-four hours when it's half full. Cold retention is subject to fullness, as the more stocked the freezer is, the longer it can keep cold. If you do have to open them, do so quickly to prevent the temperature from increasing. Keep a supply of non-perishables for times like these to prevent you from having to open the fridge or freezer.
Unplug Electronics
Remember to unplug your electronic devices, especially the ones that were in use when you lost power. Some electronics can be dangerous when left unattended. If they were running before the outage and subsequently turned back on afterwards, we may be at risk. Additionally, there will be an electrical surge to supply them energy when the power is restored which can damage the devices. This can also come at a cost because starting devices back up to the level they were previously running at can require more energy than simply unplugging them and gradually restoring their energy when the power comes back on.
Emergency Averted: The Power is Back On. Now What?
Hopefully you don't have to wait several hours for your power to return. But if so, it is important to see how your home has been affected by the lack of energy and reflect on how to prepare for a power outage if it happens again.
Dispose of Food
Following an outage, open the fridge and freezer to assess the damage. If food was exposed to a warm temperature for too long, it will have to be disposed of. Go through perishable items like your meat and dairy products and lookout for foods that don't look fresh or have an odor. However, spoiled food can be undetectable to just the eye and nose, so make sure to check the thermometer in your freezer and fridge if they one. If refrigerated goods have been at 40°F for over two hours they should be thrown away. If the freezer reads 40°F or lower when the lights come back on, that food can be refrozen.
Make a Note For Next Time
When power is restored, write a note of items you needed but didn't have access to and identify what you put away specifically for a power outage but didn't use. A first aid kit is always good to keep around, but a fully stocked pantry of non-perishable goods could be excessive. Putting this list together can efficiently provide you with an idea of what to have at the ready for the next power outage.
Have No Fear the Next Time You Lose Power at Home!
Though power outages can be stressful, these tips can help you identify the problem, provide methods for managing your home without energy, and even get your electricity back on. Being mindful of the condition of your food, the effects of the power being restored, and your safety  will make getting through a stretch without energy much easier. So the next time your power goes out, be sure to grab a flashlight and try these simple tips!
What our customers are saying
See why our power customers say we're the best electricity provider in Texas!
Affordable and easy to make payments
I was worried about getting electricity for my home through a prepaid company. I was calling around to see different rates then going through all the hassle of credit checks while dropping points each…
Happy Customer
I have been with this company for several years and have been very happy since. Even when I moved, they made my usually stressful situation very easy and carefree. I recommend them to everyone that I…
Long term customer
I have enjoyed the service for 2 years now. In the beginning this service was planned to be temporary but with the service being so effective for me i decided to keep it for the long haul. I'm a happy customer.