School is back in session which means fall weather is approaching. After trying to keep cool throughout the hot summer, fall weather brings a new approach to saving energy for you and your family. With a few fall saving tips your home can be ready to take on the season change. Applying small changes around the house this fall will have you saving money in no time.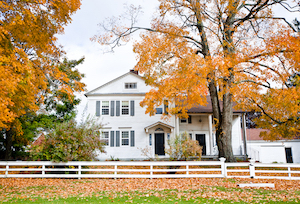 Check For Cracks And Leaks
With the cooler weather approaching, you want to make sure your home is staying warm. Checking for cracks and leaks in doors and windows will save your home's warm air from escaping. Along with warming your home more efficiently, your heater will be working to it's best ability because there are no cracks or leaks for air to slip through. By sealing off the cracks and leaks throughout your home, you will be cutting costs in no time when the chilly fall weather hits!
Replace Your HVAC Filter
After a hot summer, your HVAC filter is filled with dust and particles from the summer months. Changing this filter is a simple fall money saving tip that allows for better and more efficient airflow throughout your home. The replacement of your HVAC filter will allow for your heater to work more efficiently and warm your home faster. The less work your heater has to do when warming your home, the less it will cost you on those colder fall days.
Use Natural Light
Colder temperatures and shorter days require more use of electricity and heating. The use of natural sunlight is a simple way for saving money and energy this fall. Natural sunlight can bring heat and light into your home without costing you a penny. During the day, this fall saving money tip is an easy way for you to cut costs and stay comfortable in your home this fall.
Change The Direction of Ceiling Fans
Ceiling fans are typically used for keeping cool, but they can also be used for remaining warm during the fall if rotating in the clockwise position. During the summer months, ceiling fans are an extra source for keeping your home cool and saving you money. Did you know they can do the same during the fall? Simply reversing the rotation of the ceiling fan allows for warm air to circulate throughout a room and start saving you money.
Set Your Thermostat To 68 degrees
Maintaining a temperature in your home during the colder months of the year is an easy tip for saving money. Setting your thermostat to 68°F will heat your home in the most efficient way while also saving money. The lower the thermostat is, the less money spent on heating so when you are not home or even sleeping, lowering your thermostat is a perfect way to save this fall.
Remove Or Seal Window Air Conditioners
Window air conditioners are a common way to cool down your home in the summer, but removing or sealing window air conditioners during the fall can save you money and make your home as energy efficient as possible. This fall money saving tip will prevent warm air from escaping from your home and keep you warm during those chilly fall days.
Consider Using A Humidifier
Humidifiers are a great tool for saving money this fall. Humidifiers work to keep warm air inside a room, allowing your thermostat to not work as hard.  Keeping warm, humid air trapped in your home for longer will leave your home warm and save you money.
How are you preparing for fall this year? Share with us on
Facebook
!